Mostbet Review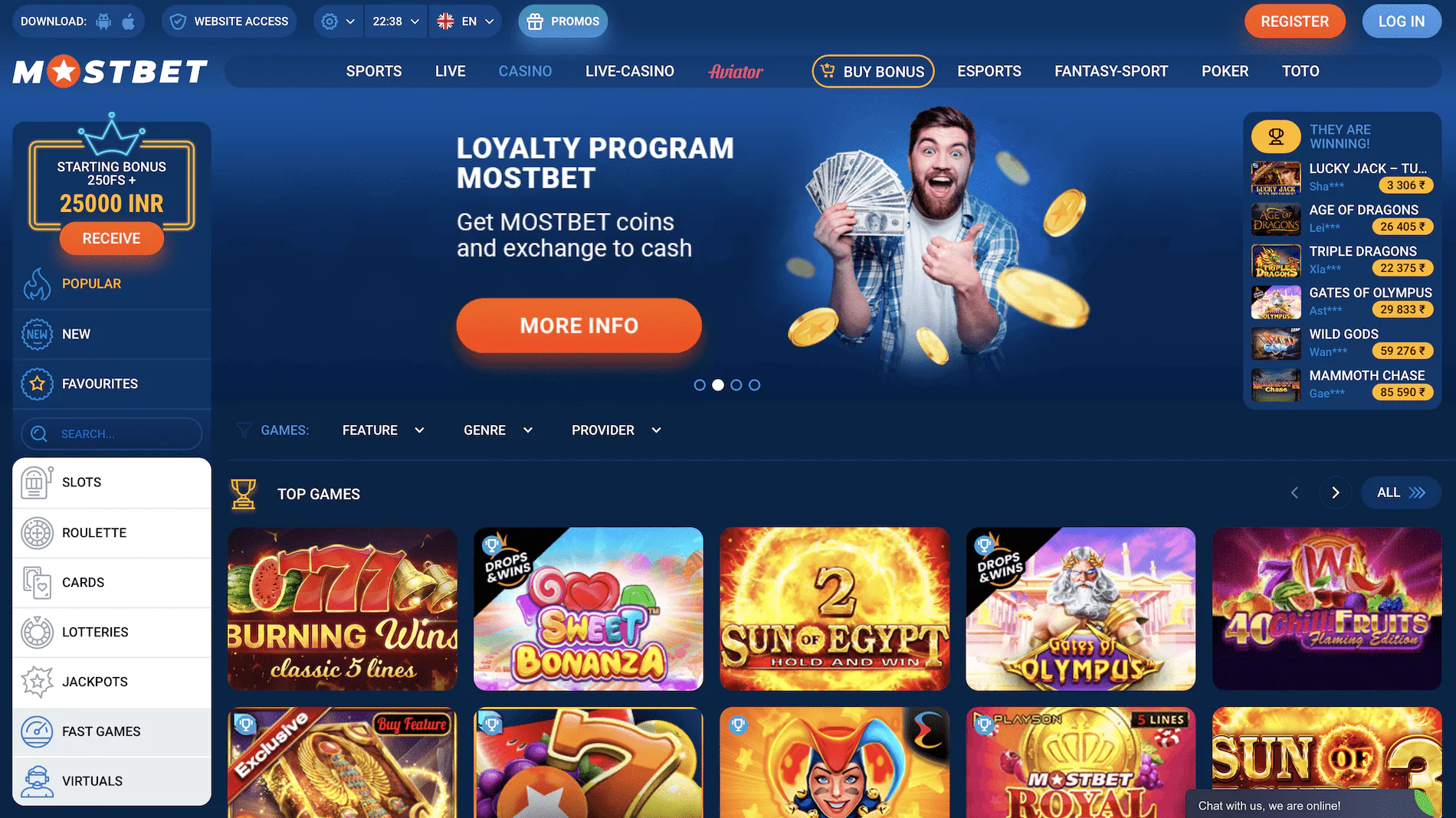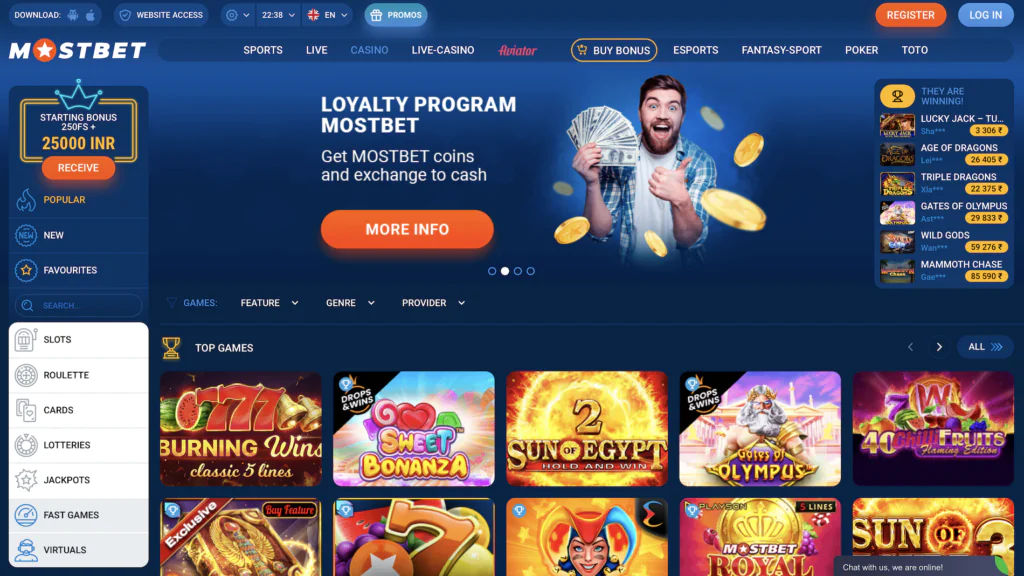 As a seasoned reviewer of online crypto casinos, I've encountered numerous platforms, each offering its unique flair. Mostbet has particularly caught my attention. Operating since 2009, Mostbet casino isn't just another name in the vast sea of online gambling; it's a site that stands out for its commitment to providing a safe and enjoyable betting experience, especially for those who prefer using cryptocurrencies.
I will uncover all the platform's ins and outs in this Mostbet casino review. Let's dive in!
Background Information of Mostbet
What is Mostbet? It's not just another online casino; it's a comprehensive betting platform that combines the thrill of sports betting with the excitement of casino games. Users can place bets on popular sports such as football, basketball, tennis, cricket, and many more. Mostbet also offers a variety of online casino games, including slots, roulette, blackjack, baccarat, and live dealer games.
Licensed by the Curacao Gaming Authority and owned by Venson Ltd., based in Cyprus, Mostbet offers an assurance of safety and credibility that's essential in today's online betting world.
Safety and Reliability in Mostbet
Let's talk safety – a non-negotiable aspect of any online casino. Mostbet takes this seriously. With SSL encryption, they ensure your data is as secure as it can be. But they don't stop there. The implementation of Two-Factor Authentication (2FA) adds an extra layer of security, safeguarding your account from unauthorized access. In my experience, a platform that prioritizes these security measures is one that values its users' peace of mind.
The reliability of Mostbet is further solidified by its long-standing presence in the market. They've built a reputation that resonates with trust and credibility. Their management team comprises industry veterans who know the ins and outs of sports betting and online gaming. This expertise is a significant factor in Mostbet's sustained success and reliability.Considering the large number of positive Mostbet reviews and modern security measures, it is obvious that Mostebst is safe and reliable.
Crypto Betting Features in Mostbet
It's not for nothing that Mostbet sportsbook ranks among the best betting sites. Mostbet offers an extensive selection of sports, exceeding 30 distinct categories, including globally popular sports like Football, Basketball, and Tennis. These widely-followed games are the cornerstone of any sportsbook, and Mostbet ensures they are front and center, providing comprehensive coverage for each.
For those who enjoy team sports, options extend to Volleyball, Handball, American Football, and Rugby. Motorsport fans can indulge in betting on events in Formula 1, while followers of indoor sports have options like Table Tennis and Badminton.
Mostbet also steps into the arena of less conventional sports, providing betting opportunities in Australian Rules Football, NCAA Basketball, Bandy, and even Chess. For enthusiasts of precision sports, there are options such as Billiard and Darts.
Additionally, Mostbet covers a variety of racing sports, including Horse Racing and Greyhound Racing, catering to the interests of racing fans.
In the sphere of martial arts and combat sports, options like Boxing and Martial Arts are available, while fans of Gaelic sports can find Gaelic Football and Hurling.
For those interested in more unique betting experiences, Mostbet offers innovative options like T-Basket, T-Kick, and Parlaybay.
Betting Markets and Odds
The depth of Mostbet's betting markets is particularly impressive. In football alone, a single match can feature over 400 betting markets, providing an array of choices from basic 1X2 bets to complex player and team props. The odds format is diverse, accommodating different preferences with formats like Fractional, Decimal, Indonesian, Malaysian, Hong Kong, and American.
Live Betting and Streaming
Mostbet excels in live betting, offering real-time wagering on an extensive list of sports. This feature is particularly engaging for those who love the thrill of making decisions as the action unfolds. Here's a rundown of all the sports available for live betting on Mostbet:
Football: Experience the excitement of every goal and tackle in real-time.
Tennis: Follow each serve and volley with the option to bet at critical moments.
Ice Hockey: Get into the fast-paced action of the game with live bets.
Basketball: Engage with every basket and block in live basketball matches.
Volleyball: Bet as teams spike and block their way through each set.
Handball: Keep pace with the rapid scoring of handball games.
Table Tennis: Enjoy the swift back-and-forth rallies with live betting options.
Cricket: Delve into the strategic depth of cricket matches as they happen.
Billiard: Place bets on the precision and skill of billiard players.
T–Basket, T-Kick, and Parlaybay: Dive into these unique betting experiences with a live twist.
Darts: Witness the accuracy of each throw and bet accordingly.
Counter-Strike: Enter the realm of esports with live bets on Counter-Strike matches.
Mostbet's live betting is further enhanced by live streaming, allowing you to watch the events unfold while placing your bets. This combination of live action and betting not only intensifies the excitement but also provides a comprehensive and immersive sports betting experience.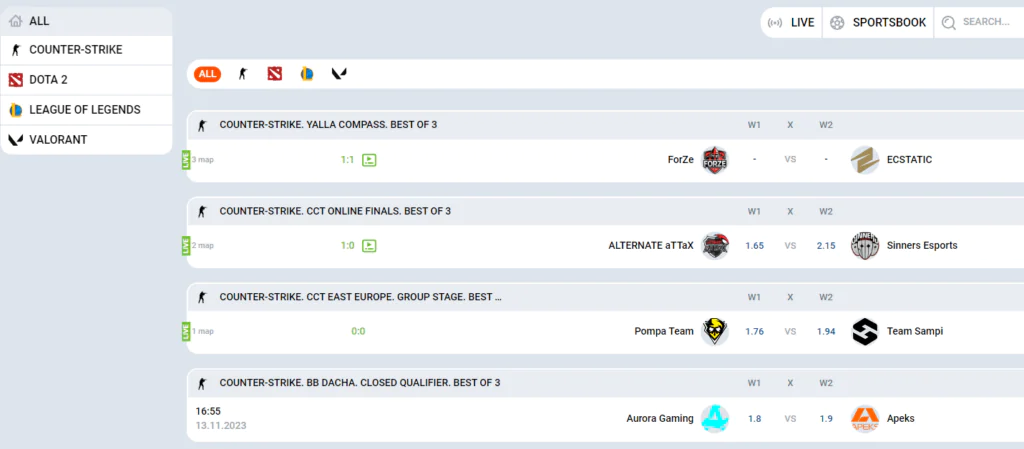 Esports Betting
Recognizing the growing popularity of esports, Mostbet offers a comprehensive esports betting section. The platform lists a wide range of esports, hosting competitions from around the world:
Counter-Strike: Tactical shootouts, where every bullet counts.
Dota 2: Epic battles, where strategy and reflexes win wars.
League of Legends: The arena of legends, where heroes clash.
Valorant: Precision and tactics, where every shot is art.
Bettors can find over a hundred markets for each esports event, providing ample opportunity to leverage insights and predictions in this rapidly growing field. Mostbet's sports betting platform is a testament to its commitment to offering a diverse and dynamic betting experience. With its wide range of sports, deep betting markets, competitive odds, and the integration of live betting and streaming, Mostbet caters to both traditional sports fans and the emerging esports audience. This variety, coupled with the platform's user-friendly interface and robust security measures, makes Mostbet sportsbook a top choice for anyone looking to engage in sports betting.
From mainstream favorites like football, basketball, tennis, volleyball, and handball to niche sports such as rugby, Australian football, and ice hockey, the platform covers a broad spectrum. Additionally, virtual sports and esports enthusiasts are well-catered for with a variety of options including Counter-Strike, Dota 2, League of Legends, and Valorant.
Mostbet Casino Games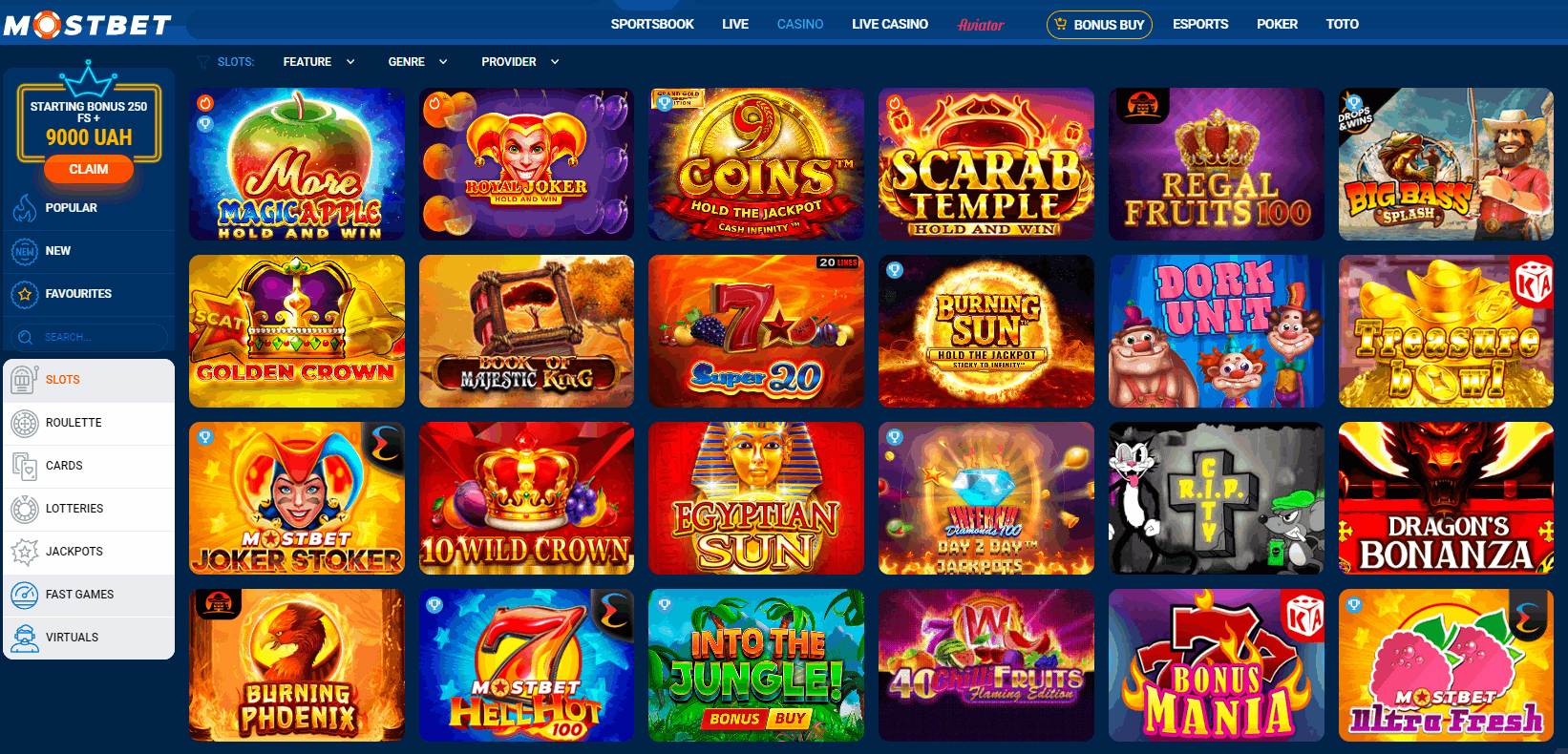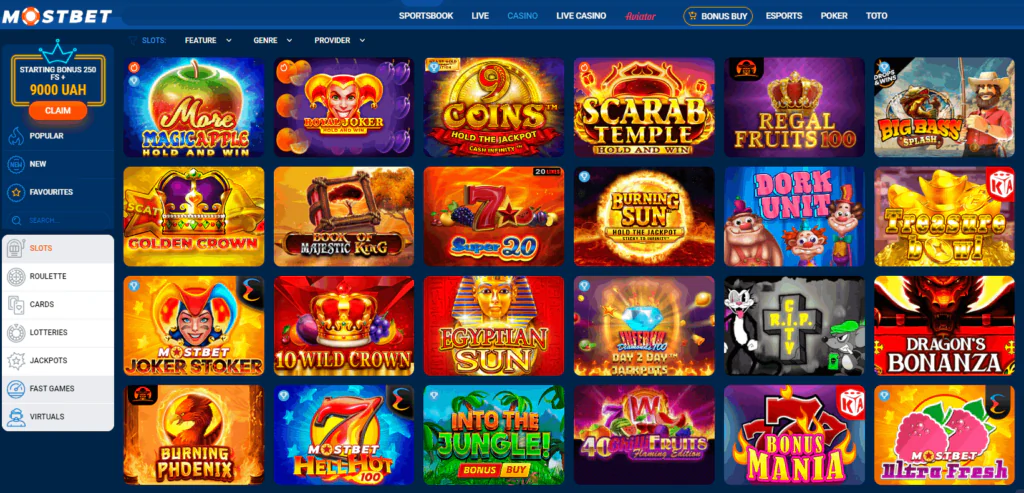 Mostbet, known predominantly for its sports betting options, also excels in providing a rich variety of classic casino table games. This dual focus makes Mostbet an appealing destination for a wide range of gaming enthusiasts. From the timeless allure of table games like blackjack and roulette to the exciting array of slot games, Mostbet caters to traditional casino players just as effectively as it does to sports bettors. 
The array of providers is extensive, featuring names like 1X2 Gaming, Betsoft, Big Time Gaming, ELK Studios, and Evolution Gaming, ensuring a rich and varied gaming experience.
Online Slots
The slot machine selection at Mostbet is particularly noteworthy, boasting 36 titles that range from classic themes to innovative new games. Popular titles include "Magic Apple: Hold and Win," "Scarab Temple: Hold and Win," "Big Bass – Splash," and "Regal Fruits 100." For those seeking something unique, there's "Dork Unit," "Treasure Bowl," "Mummyland Treasures," and "Dragon's Bonanza." Each slot game comes with its own set of thrills, themes, and potential wins, making the slots section a vibrant and enticing corner of the casino.
Mostbet makes game selection effortless with filters by genre – from Cartoons to Horror, Space, and Pirates. The platform also categorizes games by features like Bonus Buy, Jackpot, Risk Game, Fishing, and Megaways.
Roulette
Roulette enthusiasts are in for a treat with 36 different games to choose from. Whether you prefer the classic feel or a modern twist on this timeless game, Mostbet's roulette section promises a captivating experience.
Card Games
The card game section at Mostbet is comprehensive, featuring favorites like Poker, Baccarat, and Blackjack. The collection includes various forms of video poker and "PLAYER TO PLAYER" games such as Bura, Mac Ludo Seka, Dominoes, Banker Niu Niu, Blackjack Bura, Okey, Backgammon, Rummy, Fan-Tan, Catte, Cockfighting, Crazy Paikang, Domino, Domino Qiu Qiu, Dummy, and Gao Gae 2 cards. This wide range ensures that card game enthusiasts have plenty of options to explore.
Lotteries
Lotteries at Mostbet add an element of surprise and excitement. With options like Keno, Bingo, and Scratch Cards, players have the chance to test their luck and potentially hit big wins.
For those who prefer a faster pace, Mostbet's Fast Games section offers instant gratification. Games like Pinko, Crash, Mines, and Aviator provide quick and thrilling experiences, perfect for on-the-go gaming.
Live Casino
The live casino at Mostbet brings the excitement of real-time gaming with live versions of Blackjack, various Roulettes, and popular Game Shows like Crazy Time, Monopoly Big Baller Live, Dream Catcher, etc. The variety here is impressive, with different tables catering to various betting limits and styles of play. It's not just about placing bets; it's about experiencing the social dynamics and excitement of a live gaming environment.
Poker Section
In the vibrant world of Mostbet Casino, the poker section stands out as a noteworthy feature. Their dedicated poker area is a treasure trove for poker enthusiasts, catering to various preferences and skill levels.
It features an array of popular poker variations, including the ever-popular Pot-Limit Omaha (PL Omaha) and No-Limit Hold'em (NL Hold'em), catering to traditionalists and purists of the game. For those seeking a faster pace and a different style, NL Triton Short Deck Hold'em provides an exciting alternative, injecting a fresh dynamic into the mix.
The range of stakes available in the poker section is particularly commendable. It spans from low stakes, starting at just $0.05/$0.1, ideal for beginners or casual players, to higher stakes games that cater to more experienced or risk-taking players. This inclusivity ensures that everyone, regardless of their budget or level of expertise, can find a comfortable spot at the Mostbet poker tables.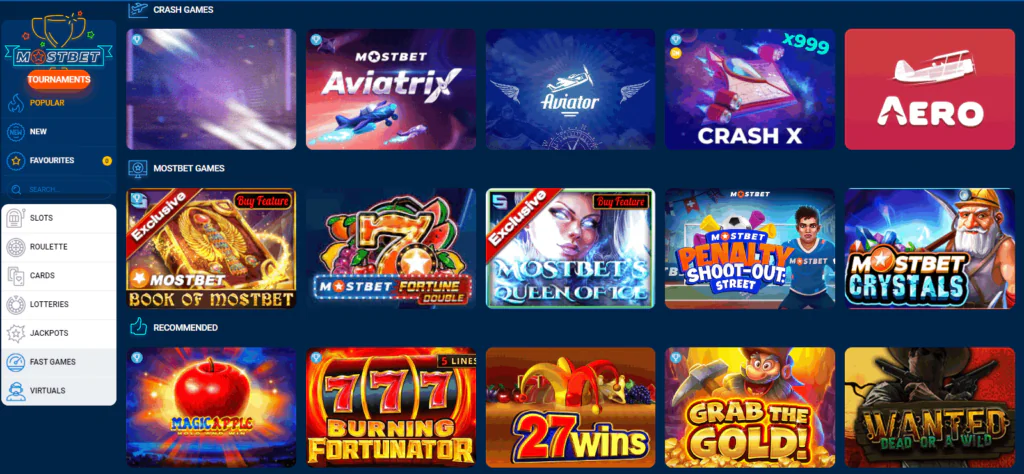 My Betting Experience
As an experienced reviewer of crypto casinos, with a deep understanding of the intricacies of gambling and betting, I embarked on an explorative journey at a renowned crypto casino. Armed with 500 USDT and a keen sense for strategic play, I delved into two distinct areas: the poker tables and the sports betting section.
Poker Game Experience
Starting with the poker section, I chose to join a No-Limit Hold'em table, a classic choice for any poker enthusiast. My initial strategy was cautious yet observant, opting to bet conservatively while gauging the style of my opponents. My first few hands were a mixed bag, costing me 50 USDT but giving valuable insights into the other players' strategies.
Feeling more confident, I increased my stakes, getting involved in a particularly intense hand. With a strong starting hand, I decided to raise pre-flop. The action heated up, and by the river, I was all in, pushing another 200 USDT into the pot. The showdown was tense, and fortunately, my hand held up, netting me a substantial win and pushing my balance up to 850 USDT.
Sports Betting Experience
Switching gears, I moved to the sports betting section. With football being a personal favorite, I placed a bet on an ongoing match, wagering 100 USDT on the underdog. The unpredictability of the game made it a thrilling watch, but ultimately, my chosen team couldn't pull through, and I lost the bet.
Not deterred, I placed another bet, this time on a tennis match. I went big, staking 200 USDT on the favorite. The match was a rollercoaster, but in the end, my selection won, adding 400 USDT to my balance.
My Verdict:
The experience was a vivid illustration of the highs and lows of casino and sports betting. The poker tables at the crypto casino offered a highly competitive and skillful environment, while the sports betting section provided an exciting, if unpredictable, avenue for wagering. The blend of strategy in poker and the thrill of sports betting created a diverse and engaging gambling experience.
Overall, my balance stood at 950 USDT after this venture, a profitable outing. This session reaffirmed that gambling, especially in a crypto casino, is a blend of skill, strategy, and sometimes, just a bit of luck. The key takeaway for any bettor is to understand the games, know the risks, and embrace both the wins and losses as part of the overall experience.
Mostbet Tournaments
Mostbet consistently hosts a range of tournaments catering to different games and player preferences, providing numerous opportunities to win prizes. Among these varied events, the most significant tournaments currently running include:
Drops & Wins Slots
Duration: April 5, 2023, – March 6, 2024,
Prize Pool: EUR 24,000,000 total (EUR 2,000,000 monthly)
Min. Bet: EUR 0.50 for Weekly Tournaments (Regular Weeks)
Prize Distribution: Top 10,000 participants on the leaderboard win prizes
How to Win:
Engage in any of the participating slot games with a minimum bet of EUR 0.50 during Regular Weeks. Accumulate points by completing specified challenges within these games, which influences your position on the leaderboard.
Participating Games:
Big Bass Bonanza
The Dog House
Gates of Olympus
Sweet Bonanza
Sugar Rush
Starlight Princess
Buffalo King Megaways
Wild West Gold
Wild Wild Riches
Rainbow Reels and more!
Drops & Wins Live Casino
Duration: April 5, 2023 – March 6, 2024
Total Prize Pool: EUR 6,000,000 (EUR 500,000 monthly)
Promotion Components:
Daily Prize Drops:
Daily Prize Pool:€/£9,000 divided into 500 cash prizes.
Entry: Place a minimum bet of EUR 2 in participating games.
Weekly Blackjack Tournament
Total Prize Pool: €/£108,000 in 500 cash prizes.
Entry: Consecutive wins with minimum qualifying bets of EUR 10.
Daily Game Shows Tournament
Daily Prize Pool: €/£5,000 in 200 cash prizes.
Entry: Qualifying spins with a minimum of EUR 2 in participating games.
How to Win:
Daily Prize Drops: Bet with real money in participating games; prizes are random.
Weekly Blackjack Tournament: Gain points for consecutive wins; the more consecutive wins, the more points earned.
Daily Game Shows Tournament: Earn points based on the winning multiplier from qualifying bets.
Participating Games:
Speed Baccarat
Azure Blackjack
Sic Bo
Indian Roulette
Turkish One Blackjack
Dragon Tiger
Snakes and Ladders Live
Andar Bahar and more!
Special Freeroll (Poker)
Duration: October 6, 2023 – August 27, 2024
Prize Pool: $50 guaranteed each Sunday
Entry: free
How to win:
Ensure you register by 18:00 UTC(+3) each Sunday in the Mostbet poker room by selecting the Tournaments tab. If you miss the initial registration time, you have a grace period of one hour for late sign-ups. Engage in the game, utilizing your poker skills to outplay the competition, with no entry fee required to join the contest for the $50 prize pool.
To discover even more tournaments with a variety of conditions and prizes, visit the official Mostbet website. The platform ensures that there's always something for every type of player, whether you're a slot enthusiast, a live casino lover, or a poker expert. Keep an eye out for new tournaments and promotions that are regularly updated to provide fresh and exciting challenges.
Mostbet Bonuses And Promotions 
In the competitive landscape of online crypto casinos, Mostbet distinguishes itself with a wide array of bonuses and promotions that not many can rival. This platform offers an impressive range of bonus offers. They enhance the gaming experience for both new and regular players, truly setting it apart in the crypto gambling industry.
Welcome Bonus

Mostbet's welcome bonus is designed to warmly greet new players, providing a significant boost right from their first deposit. This offer is particularly attractive because it not only matches the deposit amount but also exceeds it, especially under certain conditions.
| | | | | |
| --- | --- | --- | --- | --- |
| Min. Deposit | Bonus | Wager | Game | Max. Bonus Amount |
| €20 | 125% + 250FS | 60 | Casino | €300 |
| €5 | 125% | 60 | Sports | €300 |
The welcome bonus at Mostbet is particularly generous, offering 125% on the first deposit, a substantial increase from the standard 100% bonus. This enhanced bonus is available for deposits exceeding €5 made within 30 minutes of registering.
So, the 125% first deposit bonus rewards quick and higher initial deposits made shortly after registration, offering a greater incentive compared to the standard 100% bonus.
Reload Bonuses 
Beyond the welcome offer, Mostbet continues to reward its players with reload bonuses. These bonuses are available for up to the 5th deposits. They offer additional value on subsequent deposits after the initial welcome bonus. Mostbet's approach to Reload Bonuses is a testament to its commitment to player satisfaction and long-term engagement
Second Deposit Bonus
Players receive a bonus on their 2nd deposit, enhancing their continued experience on the platform.
| | | | | |
| --- | --- | --- | --- | --- |
| Min. Deposit | Bonus | Wager | Game | Max. Bonus Amount |
| €30 | 50% + 10FS | 50 | Casino | €300 |
| €60 | 50% + 20FS | 50 | Casino | €300 |
| €90 | 50% + 40FS | 50 | Casino | €300 |
| €30 | 50% + 10FS | 15 | Sports Bets | €300 |
| €60 | 50% + 15FS | 15 | Sports Bets | €300 |
| €90 | 50% + 25FS | 15 | Sports Bets | €300 |
Third Deposit Bonus
The incentives continue with the 3rd deposit, further adding to the players' bankroll.
| | | | | |
| --- | --- | --- | --- | --- |
| Min. Deposit | Bonus | Wager | Game | Max. Bonus Amount |
| €30 | 75% + 15FS | 50 | Casino | €300 |
| €60 | 75% + 30FS | 50 | Casino | €300 |
| €90 | 75% + 50FS | 50 | Casino | €300 |
| €30 | 100% + 15FS | 15 | Sports Bets | €300 |
| €60 | 100% + 30FS | 15 | Sports Bets | €300 |
| €90 | 100% + 50FS | 15 | Sports Bets | €300 |
| €90 | 100% + 50FS | 15 | Sports Bets | €300 |
Fourth Deposit Bonus
The 4th deposit comes with its own set of rewards, maintaining the momentum of bonuses.
| | | | | |
| --- | --- | --- | --- | --- |
| Min. Deposit | Bonus | Wager | Game | Max. Bonus Amount |
| €60 | 100% + 35FS | 50 | Casino | €300 |
| €90 | 100% + 70FS | 50 | Casino | €300 |
| €30 | 150% + 30FS | 15 | Sports Bets | €300 |
| €60 | 150% + 60FS | 15 | Sports Bets | €300 |
| €90 | 150% + 100FS | 15 | Sports Bets | €300 |
Fifth Deposit Bonus
Completing the cycle, the 5th deposit also attracts a bonus, ensuring a prolonged and rewarding gaming journey.
| | | | | |
| --- | --- | --- | --- | --- |
| Min. Deposit | Bonus | Wager | Game | Max. Bonus Amount |
| €30 | 25% + 35FS | 50 | Casino | €300 |
| €30 | 75% + 15FS | 15 | Sports Bets | €300 |
By extending casino bonuses beyond the initial welcome bonus offer, Mostbet crypto casino ensures that players have continuous incentives, making it an attractive platform for regular and long-term online gaming enthusiasts.
No-deposit Bonus 

The platform offers an enticing Mostbet No-Deposit Bonus, perfect for those who want to start their betting journey without an initial investment. This bonus is available immediately after signing up on the website and offers a choice between 30 free spins or 5 free bets in the popular game Aviator. Upon registration, players can choose between the Sports or Casino category for their no-deposit bonus:
If you choose the Casino category, you receive 30 free spins within 24 hours of registration in the top 5 games of their choice. These spins have a value of €0.1 each, with maximum winnings from free spins capped at €100. The wagering requirement is x40, and free spins can only be wagered using the real balance.
If you choose the Sports category, you get 5 free bets in Aviator, credited within 24 hours post-registration. Each free bet is valued at €1, with maximum winnings from free bets set at €5. The wager carries an x40 wagering requirement, playable only using the real balance in casino slots.
Cashback

Mostbet betting site also offers a cashback scheme to compensate players for a portion of their losses. This cashback is calculated based on the player's losses and is credited at the beginning of each week.
The cashback percentage depends on the amount of loss:
5% cashback for losses starting from 50€
7% cashback for losses starting from 250€
10% cashback for losses starting from 1000€
The credited cashback comes with an x3 wagering requirement. This means that players need to wager the cashback amount three times using their real balance before it can be withdrawn or transferred to the main account. The cashback bonus is accessible for 72 hours with a maximum payout (transfer to the real balance) of x5.
Risk-free Bet 

Mostbet's Risk-Free Bet promotion is a standout offer designed for registered users betting on specific football matches. This promotion includes both live and pre-match betting, provided the odds are at least 2.0. To participate, bettors need to place a single bet with a minimum stake of EUR/USD 15 or its equivalent.
The unique aspect of this offer is the 100% return on the bet amount as a bonus in case of a loss, up to a maximum of USD/EUR 350. This essentially allows players to bet with a safety net, knowing that their loss will be compensated.
Other Promotions
Mostbet provides its users with several unique promotions. These promotions are designed to give additional benefits, making the betting journey more enjoyable and rewarding.
Bet Buyback: enables users to sell back their bets before the outcome, providing immediate funds and added flexibility in betting.
Referral Bonus: Invite friends to join the platform and earn a percentage of their bets, enhancing your earnings as your referral network grows.
Birthday Bonus: Celebrate your special day with Mostbet's Birthday Bonus, offering exclusive rewards to enhance your gaming experience on your birthday.
Mostbet VIP Program

Mostbet's VIP program is a treasure trove for any casino enthusiast. This is a currency system where your activity within pays off in coins – Mostbet coins. They're your golden ticket to some pretty sweet bonuses.
The more you play, deposit, and engage, the more coins you rack up. As you climb the loyalty ladder, each rung offers a more advantageous exchange rate for these shiny tokens. From Rookie to VIP, each level you unlock unleashes better conversion rates, making your gameplay that much more rewarding. Some of the benefits of VIP status include:
Increased withdrawal limits
Exclusive bonus offers and promotions
Invitations to special events and tournaments
Faster withdrawals and processing times
Lower wagering requirements
Pay attention to the daily tasks – little challenges are like the casino's way of giving you a high-five and some coins just for enjoying your regular games.
Signing Up With Mostbet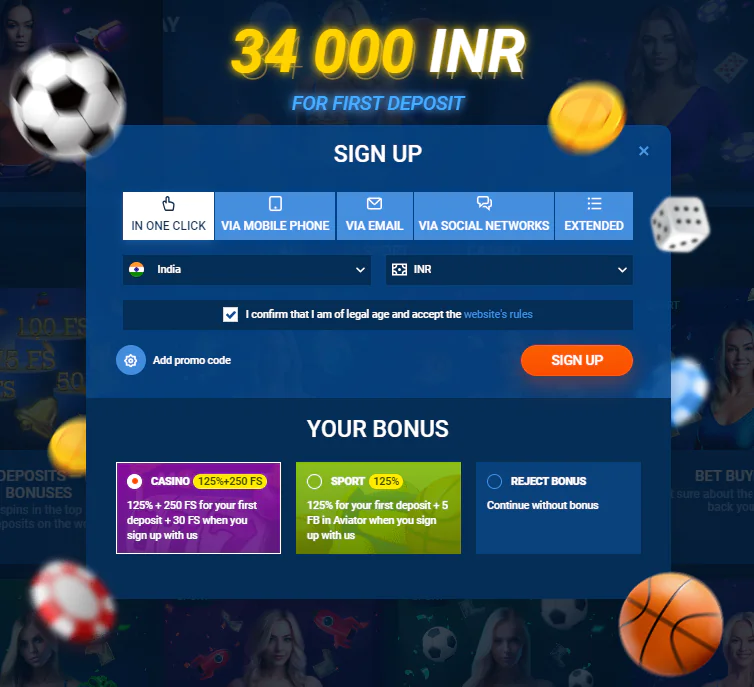 Registering with Mostbet is a straightforward process that caters to a variety of preferences, ensuring a seamless start to your betting experience. Here's a simplified guide:
1️⃣ Start Registration: Click 'SIGN UP' in the upper right corner of the Mostbet website.
2️⃣ Choose Registration Method: You have multiple options for registering:
One-Press Registration: Simply select your country and preferred currency.
By Phone: Provide your phone number and betting currency. After clicking 'SIGN UP', you'll receive a password via SMS.
By Email: Enter your email, create a password, select your betting currency, and then click 'SIGN UP'. Follow the instructions sent to your email (check your Spam folder if necessary).
Via Social Network: Choose a social network while logged into it and select your betting currency.
Extended Registration: Fill in detailed information including username, birth date, address, email, phone number, and betting currency. Accept all the conditions and click 'SIGN UP'.
3️⃣ Bonus Activation: During registration, you can enter a promo code in the 'Promo Code' field to receive a special gift. Alternatively, you can select one of the welcome bonuses:
For Sports: 125% on your first deposit 
For Casino: 125% on your first deposit + 250 free spins 
4️⃣ Placing the First Bet: Select an event in Sportsbook or Live, choose an outcome, enter the bet amount, and click 'PLACE A BET'.
5️⃣ Withdrawing Winnings: Go to 'YOUR ACCOUNT', select 'Withdraw', choose the method, enter the amount and details, and click 'ORDER PAYMENT'. Note that withdrawal times vary depending on the method.
As you can see, the Mostbet login process is designed to be user-friendly, offering multiple methods to accommodate different user preferences, ensuring a smooth start to your betting journey.
Payment Methods in Mostbet
Mostbet casino online provides an extensive range of payment methods, catering to both traditional and cryptocurrency users. For cryptocurrency enthusiasts, the platform supports various options including Bitcoin, Ethereum, Tether, Ripple, Litecoin, Bitcoin Cash, Binance Coin, Dogecoin, Dash, Zcash, Dai, TrueUSD, Dexsport, and USD Coin. This variety ensures that users can transact using their preferred digital currencies.
For those who prefer traditional banking methods, Mostbet accepts Visa and Mastercard, along with ecoPayz. Additionally, the platform offers a 'card to crypto' service, bridging the gap between conventional and digital finance, making it convenient for users to transition to cryptocurrency.
The minimum deposit limit is set at a user-friendly threshold of $2, making Mostbet accessible to a wide range of players. The maximum deposit limit per day is capped at $1500, which caters to both casual and more serious bettors.
When it comes to withdrawals, Mostbet prides itself on efficiency. Typically, withdrawal requests are processed within a few minutes, though the maximum timeframe is 72 hours. Users can track the status of their withdrawal requests in the 'Withdraw' section of their account.
| | | | | |
| --- | --- | --- | --- | --- |
| Payment Method | Minimum Deposit | Maximum Deposit | Minimum Withdrawal | Maximum Withdrawal |
| Credit/Debit Card | $2 | $1500 | $20 | $10,000 |
| E-wallets | $2 | $1500 | $20 | $10,000 |
| Bank Transfers | $2 | $1500 | $20 | $10,000 |
| Cryptocurrencies | Equivalent of $2 | No Maximum | Equivalent of $20 | No Maximum |
Mostbet Mobile App
Mostbet offers a mobile app that is available for both Android and iOS devices. The app is compatible with most mobile platforms and provides users with access to all of the Mostbet products, including betting, crypto casino, e-sports, games, live casino, lottery, and poker.
To download and install the crypto casino app on Android devices, users can visit the Mostbet website and follow the instructions provided. iOS users can download the app from the App Store. The Mostbet mobile app provides users with a convenient way to gamble on the go, with easy-to-use navigation and fast loading times.
Customer Support in Mostbet
Mostbet online casino offers 24/7 customer support to assist users with any queries or issues they may have. The customer support team can be contacted through multiple channels, including:
Live Chat: Users can connect with a customer support representative in real-time through the live chat feature on the website.
Phone: The phone support number for Mostbet is 8(800) 302-12-88.
Email: Users can send an email to the support email address, [email protected], for assistance.
Mostbet casino provides customer support in multiple languages, including English, Uzbek, Australian, Russian, Turkish, Hindi, Iranian, Ukrainian, Kazakhstani, Spanish, Peruvian, Chilean, French, Urdu, Armenian, Argentine, Brazilian, Thai, Vietnamese, Mexican, Portuguese, Belarusian, Czech, Polish, Romanian, and Bengali. The customer support team is responsive and helpful, providing users with prompt assistance and resolving issues promptly.
Pros and Cons of Mostbet
Mostbet offers users a range of advantages and disadvantages to consider before using the platform.
Pros
Wide Range of Sports: Mostbet offers a vast selection of sports to bet on, including popular options like football, basketball, and tennis, as well as niche sports like futsal, bandy, and floorball. This means that users have a diverse range of options to choose from when placing bets.
Live Betting: Mostbet allows users to bet on events as they are happening in real time, which adds an extra layer of excitement and opportunity for profit. Users can follow the action in real time and adjust their bets accordingly.
Competitive Odds: Mostbet's odds are generally considered to be competitive with other leading sportsbooks, which means users can potentially win more money with each successful bet.
User-Friendly Platform: Mostbet's platform is designed to be user-friendly and easy to navigate, which means users can quickly find the sports and events they're interested in and place their bets with ease.
Generous Promotions: Mostbet frequently offers promotions and bonuses to its users, such as free bets, cashback offers, and more, which can help users maximize their winnings and minimize their losses.
Secure and Reliable: Mostbet takes the security of its users' information and funds seriously and has implemented various measures to ensure that personal and financial data is protected at all times. They also have a strong track record of timely payouts
Cons
Restricted in Some Countries: Mostbet is not available in certain countries due to legal restrictions, including the United States, the United Kingdom, and several other countries.
Limited Payment Options: Some users have reported that Mostbet offers limited payment options compared to other online betting platforms.
Customer Support: Some users have reported slow response times and unhelpful customer support from Mostbet.
Bonus Restrictions: Some users have reported that Mostbet's bonus terms and conditions are overly restrictive and difficult to meet.
Lack of Transparency: Some users have reported that Mostbet's odds and payout rates are not always transparent, making it difficult to determine the fairness of the platform.
Bottom Line
Mostbet online casino stands out as a highly commendable platform for betting and gaming. With its extensive range of sports betting options and a rich library of casino games, it caters to varied interests and preferences.The platform demonstrates a strong commitment to diversity with its array of bonuses and promotions. These include a generous welcome offer, reload bonuses, and an innovative promo feature, all of which significantly enhance the overall user experience.
Mostbet is undoubtedly a top crypto casino for anyone looking to engage in a rewarding and exciting betting experience.