Dexsport stands out as a leading name in online decentralized betting. It's known for playing a big part in the defi sports betting world, offering a unique experience in crypto gambling.
As experienced casino reviewers, we're excited to explore every part of Dexsport crypto casino. This review will give you a detailed look at what sets Dexsport apart in the competitive world of online casinos.
Background Information of Dexsport
Dexsport is more than just a betting site. It's a Web 3.0 platform, which means it uses the latest internet technology to make betting smarter and safer. It's built on the Binance Smart Chain, setting it apart from traditional betting sites. The winnings come from a shared pool, so you always get what you win.
The Dexsport team is a mix of blockchain and gaming experts, all focused on making betting more about the players and less about the bookies.
Dexsport's growth is boosted by Ground Zero, a group known for helping new tech projects succeed. They're supporting the platform with funding and marketing, helping it become a standout in the world of Web 3.0 betting​​.
Safety and Reliability in Dexsport
Operating on a decentralized network, Dexsport ensures that every transaction and bet is transparent and tamper-proof, thanks to blockchain technology. This approach eliminates the need for intermediaries like bookmakers or casinos. It reducing risks of manipulation and fraud, and ensuring a fair betting environment.
This defi sports betting platform uses smart contracts. These self-executing contracts, with terms directly written into code, automatically execute once conditions are met, eliminating human error or manipulation. This means that bets placed on Dexsport are governed solely by the rules set in the smart contract, offering a level of confidence and fairness unseen in traditional betting platforms.
Moreover, Dexsport prioritizes the safety of user funds through multi-signature technology. It requires multiple approvals for fund release, thus fortifying against unauthorized access.
Gambling at Dexsport
Dexsport impresses with its comprehensive sports betting features, catering to a wide range of preferences. At its core, the platform offers an extensive selection of sports options, ensuring that there's something for every sports enthusiast.
Sports Betting Options
Football: From international tournaments to local leagues, football betting is a major highlight. Whether it's the World Cup or regional championships, Dexsport covers it all.
Basketball: Basketball fans can bet on games from the NBA, EuroLeague, and other global leagues, enjoying a variety of betting options.
Tennis: For tennis aficionados, Dexsport offers the chance to bet on all major tournaments, including the Grand Slams, ATP, and WTA tours.
eSports: Recognizing the rising popularity of eSports, Dexsport includes betting on popular games like League of Legends, CS:GO, and Dota 2.
Baseball: Baseball betting covers major leagues like MLB, offering fans a chance to engage with their favorite sport.
Hockey: NHL games and international hockey events are available for betting, catering to the hockey community.
Other Sports: Dexsport's range extends to sports like MMA, boxing, cricket, and more, ensuring diversity in betting options.
Betting on Events and Odds
Dexsport doesn't just provide variety in sports; it also offers a rich selection of events and competitive odds. Bettors can find various markets and bet types for each sport, from straightforward match winners to more complex bets like point spreads and over/under. The platform ensures that the odds are competitive, providing value to bettors regardless of their betting style or strategy.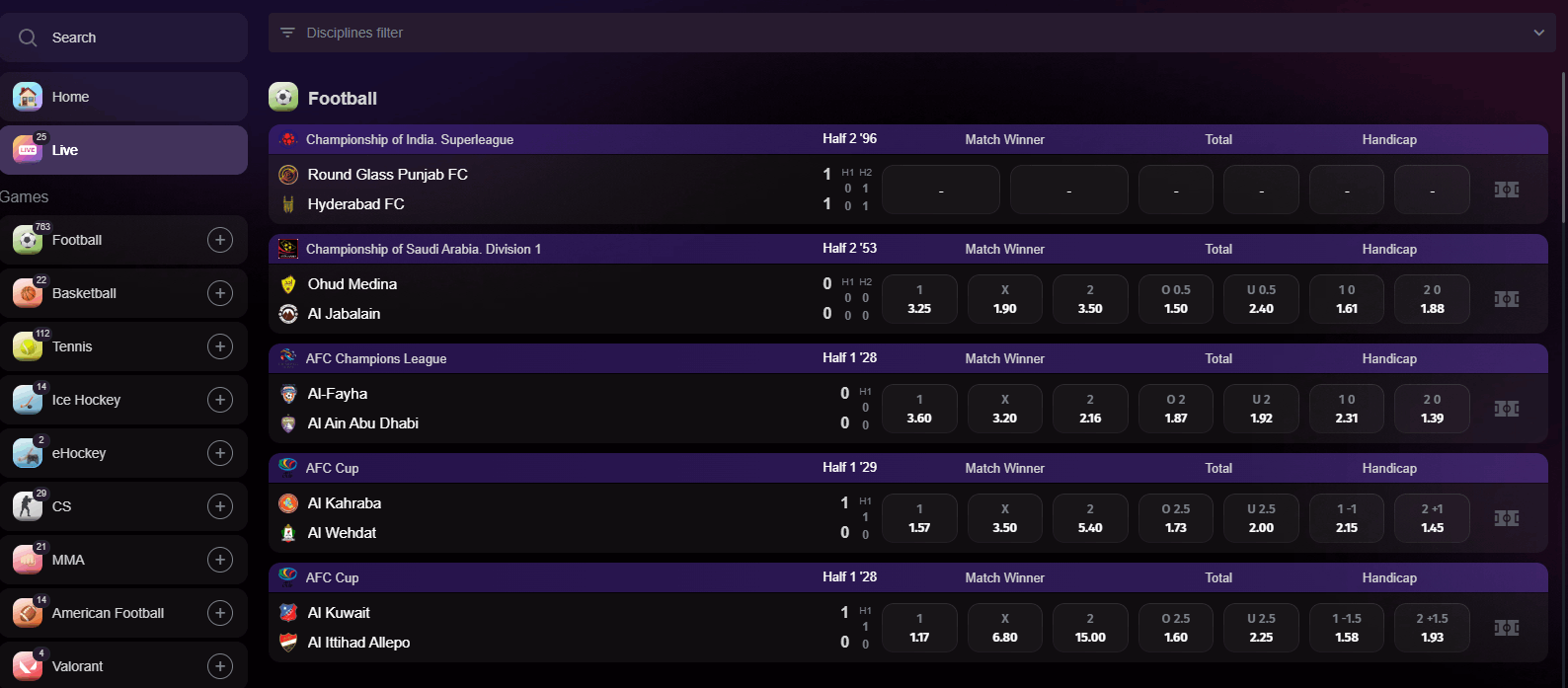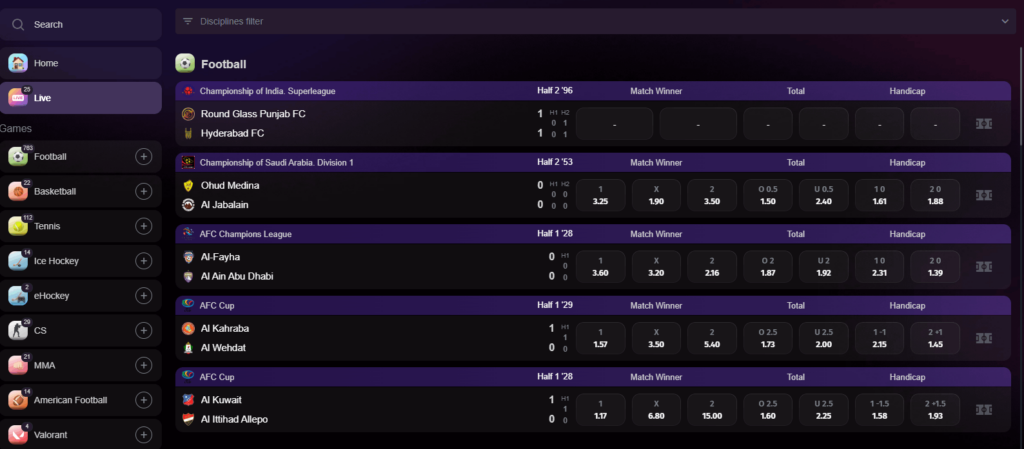 eSports Betting
Dexsport recognizes the growing interest in eSports, offering a comprehensive betting experience in this dynamic field:
Extensive Coverage: The platform includes popular games like League of Legends, CS:GO, Dota 2, and others, covering major tournaments and regional competitions.
Diverse Betting Markets: Bettors can explore various betting options within eSports, ranging from winners of individual matches to specific event outcomes.
Real-Time Betting: For added excitement, Dexsport offers live betting on eSports events, allowing bettors to engage with the action as it unfolds.
Dexsport Casino Games
Alongside its comprehensive sports and eSports betting options, Dexsport offers an exciting variety of games that cater to different tastes. This diverse gaming suite includes 18 unique games, each offering a distinct experience.
The Variety of Games
Dice: A classic game of chance where players bet on the outcome of dice rolls.
Crash: An adrenaline-pumping game where players must time their exit before the game 'crashes'.
Hilo: A simple yet engaging card game where players predict whether the next card will be higher or lower.
Plinko: Inspired by the popular game show, players drop balls down a pegged board to land on winning slots.
Mines: A strategic game where players clear a minefield while trying to avoid hidden mines.
Keno: A lottery-style game where players pick numbers and hope they are drawn.
Limbo: A game where players bet on the outcome of a randomly generated number being above or below a certain threshold.
And More: The platform also features other exciting games, each with its unique gameplay and winning opportunities.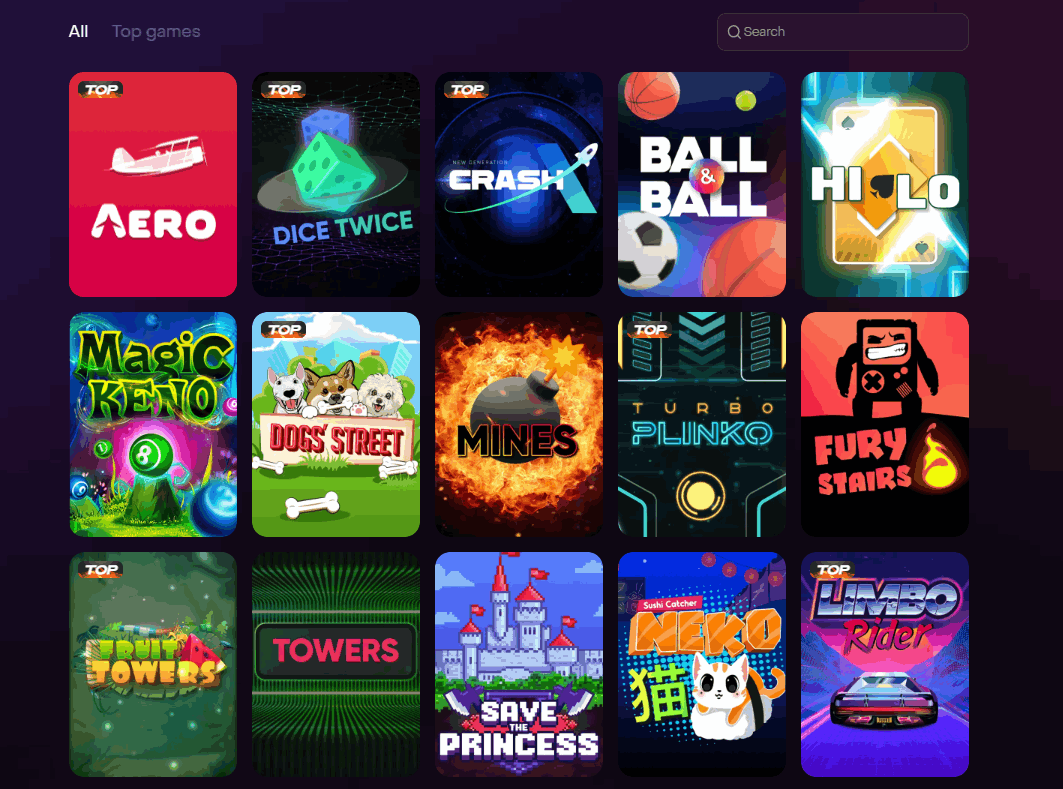 One of the standout features of Dexsport's gaming range is the availability of a demo mode for these games. This mode is especially beneficial for new players or those who wish to get a feel for a game before placing real bets. It allows users to familiarize themselves with the game mechanics, understand the rules, and develop strategies without the risk of losing real money.
My Betting Expirience at Dexsport
As a seasoned reviewer with extensive experience in crypto gambling, I embarked on an exploratory betting session at Dexsport, equipped with a simulated budget of 500 USDT. My focus was on sports betting, a key offering of Dexsport, to gauge the platform's betting dynamics and potential outcomes.
Bet 1: Football – UEFA Champions League Match
Bet Amount: 100 USDT
Selection: I chose to bet on an underdog team in a UEFA Champions League match. The odds were 4.5, indicating a lower probability of winning but a high potential payout.
Gameplay: The match was a nail-biter, with the underdog team showing unexpected resilience. They scored the first goal, raising hopes. However, the favored team equalized in the second half.
Result: The match ended in a draw. My selection didn't win, resulting in a loss of the bet.
Remaining Budget: 400 USDT
Bet 2: Tennis – ATP Tour Match
Bet Amount: 150 USDT
Selection: Betting on a well-known player renowned for their excellent performance on clay courts. The odds were 1.75, a balance between risk and potential return.
Gameplay: The match started off evenly, with both players holding their serves. My selection gradually gained momentum, breaking the opponent's serve.
Result: My selected player won in straight sets. The win resulted in a payout of 262.5 USDT.
New Balance: 512.5 USDT
Bet 3: eSports – Dota 2 Tournament Match
Bet Amount: 200 USDT
Selection: Chose a team with a strong track record in recent tournaments. The odds were 2.2, offering a decent return potential.
Gameplay: The Dota 2 match was intense, with both teams displaying high skill levels. My team had a strong start but faltered mid-game due to strategic errors.
Result: The opposing team seized the opportunity and won the match. This resulted in a loss of the bet.
Final Balance: 312.5 USDT
My verdict:
This Dexsport betting review revealed the intricate nature of sports and eSports betting. Closing the session with a net loss, I couldn't help but feel a mix of disappointment and appreciation. Disappointment because nobody likes to lose, but appreciation for the rich, engaging experience that Dexsport offers. It's clear that betting, whether on sports or eSports, is not just about the potential financial gain. It's about the passion for the games, the thrill of the bet, and the emotional journey it takes you on. This session at Dexsport was a vivid reminder of that.
Dexsport Vip Program
The VIP Program at Dexsport defi betting platform is designed for players who are actively involved in the platform, frequently play, and are interested in enhancing their gaming experience with additional perks and personalized services. This program is particularly beneficial for those who play with high stakes and value the VIP cashback service.
How to Get VIP Status:
Submit Required Information: Provide your preferred contact details and the wallet address you use at Dexsport.
Minimum Bet Requirement: Place a bet of at least 2500 USDT or its equivalent in another currency.
After completing these steps, the instant VIP service is activated, and a personal manager contacts you within 24 hours. The Instant VIP service is available to everyone. Dexsport aims to offer this opportunity to all players who wish to save time and become a VIP.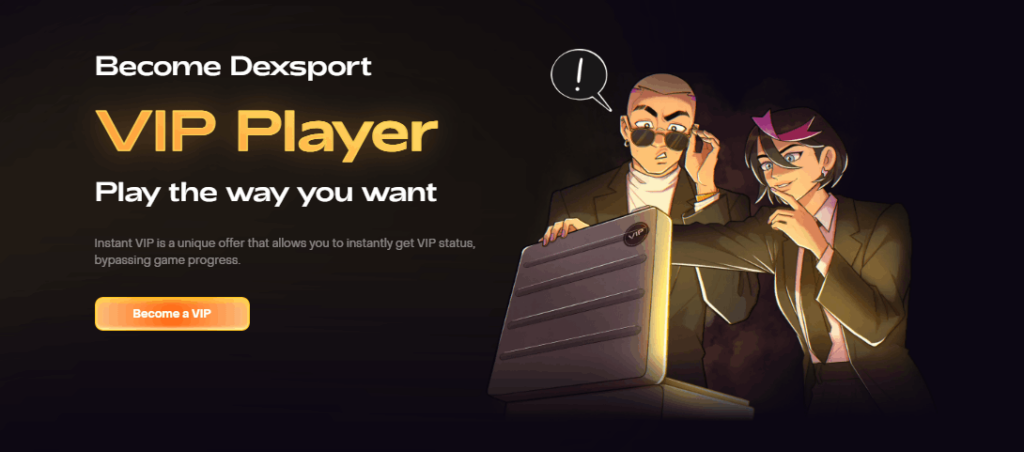 VIP Benefits:
Weekly Cashback: VIPs receive weekly cashback.
Exclusive Offers: Special offers exclusive to VIP members.
No Wagering Requirements: VIPs don't need to wager any sum of cashback to continue playing.
Personal Assistant: A dedicated VIP assistant is available nearly 24/7 to address concerns and assist with the gaming experience.
Individual Services: VIPs can request personalized game limits and conditions.
VIP Cashback Levels:
Level 1 (3.5% Cashback): For weekly losses of $2,500 or more.
Level 2 (5% Cashback): For weekly losses of $7,500 or more.
Level 3 (7.5% Cashback): For weekly losses of $15,000 or more.
Level 4 (10% Cashback): For weekly losses of $30,000 or more.
The cashback amount is calculated every Monday. It is available only for players with negative results in the past billing period, and it applies only to sports and eSports betting. A minimum of 5 bets on different events is required, and cashback is credited only on lost deposits. The cashback level can be reduced if the conditions are not met in any billing period.
Cashback is credited in BUSD at the exchange rate for the billing period.
Payment Methods in Dexsport
There's a special Dexsport coin – DESU, its native token and the cornerstone of the site ecosystem. By betting in the DESU pool, players gain access to an expanded array of markets and additional tournaments, enhancing their betting experience.
After its RED update, Dexsport expanded its operations to include support for multiple blockchains, namely BNB Chain, Polygon, and OKC. This transition to a multi-chain platform means that users can now place bets in 24 different pools, including Wrapped MATIC (WMATIC) and Wrapped OKT (WOKT), as well as various other cryptocurrencies like DESU, BUSD, USDT, MDAO, WBNB, LAUNCH, 2CRZ, YAY, BOT. This expansion significantly increases the liquidity on the platform and offers more diverse betting opportunities.

There's no specified minimum deposit limit, which means you can start betting with as little as 1 USDT, making it accessible for everyone regardless of their budget. For withdrawals, the platform maintains a minimum threshold of $10 and sets a limit of $15,000, ensuring a balance between substantial cash-out opportunities and responsible gaming practices.
In terms of betting limits, Dexsport caters to a wide range of betting styles. For live bets, the maximum bet is capped at $400, while pre-match bets have a higher ceiling of $1,000. Furthermore, the maximum win amount is set at $2,000. These limits reflect Dexsport's commitment to offering a diverse betting environment that caters to both casual players and those looking to place larger wagers.
A key feature of Dexsport defi betting platform is the speed of transactions. All deposits are processed instantly, ensuring that users can start betting without any delay. Similarly, withdrawals are efficient, typically taking up a few minutes.
Sighing Up With Dexsport
Signing up with Dexsport is a straightforward process, especially designed for users who are familiar with cryptocurrency wallets. Unlike traditional online betting platforms that might require detailed registration forms, this defi sports betting site simplifies the process by allowing you to sign up directly using a variety of popular cryptocurrency wallets. This method not only streamlines the registration but also adds an extra layer of security to your account.
Supported Wallets for Sign-Up:
MetaMask: One of the most popular Ethereum wallets, known for its ease of use and security.
TrustWallet: A user-friendly wallet that supports a wide range of cryptocurrencies.
Bitget Wallet: Offers a seamless experience for managing digital assets.
OKX Wallet: Known for its versatility and support for multiple cryptocurrencies.
KuCoin Wallet: A secure and convenient option for crypto enthusiasts.
1inch Wallet: Offers excellent integration for decentralized finance (DeFi) operations.
To sign up, simply choose your preferred wallet and connect it to Dexsport. This connection process typically involves confirming the connection on your wallet app, ensuring that you have full control over the access granted. Once connected, your wallet serves as your identity on Dexsport, allowing you to deposit, bet, and withdraw funds with ease and security.
Customer Support in Dexsport
Dexsport's customer support system is designed to efficiently cater to the needs of both registered players and potential users. Understanding the importance of timely and effective assistance, Dexsport offers a couple of avenues for support.
Registered players on Dexsport have the advantage of accessing live chat support. This feature allows for real-time communication with their support team, ensuring quick and efficient resolution of queries or issues.
For those who aren't registered or prefer not to use the live chat, Dexsport provides a question form. Users can easily fill out this form on the Dexsport website, providing their email address and the question or issue they're facing. Once submitted, the Dexsport support team responds to these inquiries via email.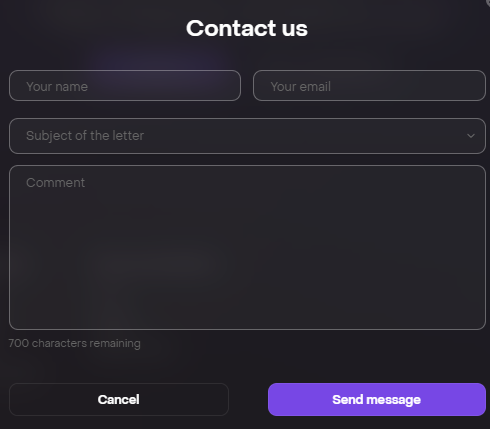 Conclusion
Our Dexsport review reveals a platform that is not just keeping pace with the evolution of online betting, but actively shaping its future. As a Web 3.0 platform, Dexsport stands at the forefront of innovation in the decentralized betting space. It leverages the latest in blockchain technology to provide a secure, transparent, and user-centric betting experience.
Dexsport stands out with its wide variety of betting choices, including sports, eSports, and many fun games. It also offers easy payment options and a simple sign-up process using wallets, appealing to all kinds of players.